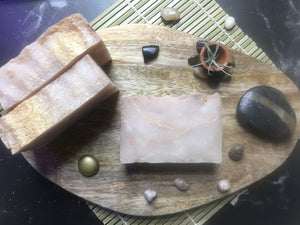 Nag Champa - Artisan Soap
Nag Champa is known for it's light sweet woodsy smell with hints of jasmine or magnolia. For me, it's has a resinous undertone that's calming and great for meditation. Bring some Nag Champa into your shower and let your present awareness overcome you. 
Vegan Friendly & Paraben free.
Net Wt: 4.7 oz
Ingredients: Cocos Nucifera (Coconut) Oil, Hydrogenated Butyrospermum Parkii (Shea Butter), Water Aqua, High Oleic Helianthus Annuus (Sunflower) Seed Oil, Persea Gratissima (Avocado) Oil, Lye (NaOH) Sodium Hydroxide, Ricinus Communis (Castor) Seed Oil, Fragrance Oil, Mica Colorants
All products are handmade and may have differences in color & design.
We keep Rocky Mountain weather in mind when making our products, including our soaps. Our delectable bars are made with nourishing avocado oil, creamy Shea butter, and high oleic sunflower seed oil. We want you to feel clean, but not dry, flaky and tight like some soaps can leave you.

***We recommend a well-draining soap dish and keep your homemade soap out of direct streaming water for a longer lasting bar.

Allergies & Sensitivities:

If you have any allergies, please carefully read the product label prior to use.

If you are uncertain about a sensitivity, we recommend doing a patch test first to ensure that there is no reaction. If irritation occurs, please discontinue using the product.

We use specific oils, butters and additives for a well-rounded product, however these claims are not FDA approved. Our products do not claim to cure or prevent disease or medical symptoms and are not intended to substitute for medical advice. Please consult your health care provider if you have any questions or concerns regarding a health condition.