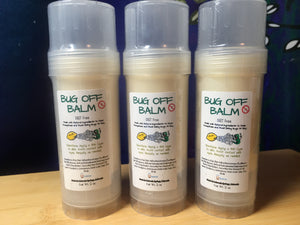 Bug Off Balm - Natural Bug Repellent Balm
Regular price $0.00 $12.00 Sale
Bubbling Buddha's Bug Off Balm is deet free and consists of lemon eucalyptus, lemongrass & cedarwood which all have been proven to ward off mosquito and deer ticks. We also use coconut oil and sunflower oil which are both also known for deterring biting critters.
The smell of citronella is strong, but once you smooth this balm over your skin, you'll notice a fresh lemon scent dominating this formula, which makes this a great lotion bar for all seasons.
Lemon Eucalyptus is also known to kill fungus. Have some fungi on your toes? Try some Bug Off for some relief.
Our easy twist up container makes applying Bug Off easy and clean. Just glide over your skin as needed.
Net Wt: 2 oz.
Ingredients: Helianthus Annuus (Sunflower) Seed Oil, Beeswax, Hydrogenated Butyrospermum Parkii (Shea Butter), Cocos Nucifera (Coconut) Oil, Zinc Oxide, Bubbling Buddha Essential Oil Blend
Allergies & Sensitivities:

If you have any allergies, please carefully read the product ingredients prior to use. If you are pregnant or have any health issues, please consult your physician before using any product with essential oils and herbs.

If you are uncertain about a sensitivity, we recommend doing a patch test first to ensure that there is no reaction. If irritation occurs, please discontinue using the product.

We use oils, butters and additives for a well-rounded product, however these claims are not FDA approved. Our products do not claim to cure or prevent disease or medical symptoms and are not intended to substitute for medical advice. Please consult your health care provider if you have any questions or concerns regarding a health condition.