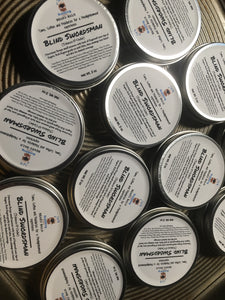 Bubbling Buddha Beard Balm
Regular price $14.00 Sale
Bubbling Buddha Beard Balm - Need something different? If you're already sporting the manly beard, but need a little extra umph for a menlightenment experience while smelling delicious and delectable, you've got to try one of our soothing and stylish Bubbling Buddha Beard Balms.
Bring your best beard forward and destroy dullness and wandering hairs. Bubbling Buddha Beard Balm is filled with hair and skin nourishing ingredients like mango butter, organic pumpkin seed, Jojoba & Argan Oils. Natural beeswax also gives extra hold to tame wild hairs. Not to mention, people will want to get a little closer once they smell your auspicious aroma.
Blind Swordsman - Best Seller! A very manly scent, with a hint of cedar, tobacco and bay leaf. No matter how dark it is, let your beard lead the way. Friend and foe alike will be dazzled by your well shaped, no nonsense face foliage and it's intoxicating aroma. Your family, friends and colleagues will wonder who smells like Casanova, while the Blind Swordsman radiates his sleek burliness.
Warrior Monk - A more natural way of life, leads the Warrior Monk. Made with Patchouli and Orange essential oils. Bubbling Buddha's all natural beard balm is woodsy, pungent and bright. This is for serious patchouli lovers that proudly stride this world with a vigor and valiant, regardless if it's in hiking boots or Birkenstocks. "Who cares!" bellows the proud warrior!
Try something new! It's time to Buddha Balm your life and get menlightened!
Ingredients: Beeswax, Mangifera Indica (Mango) Seed Butter, Helianthus Annuus (Sunflower) Seed Oil, Hydrogenated Butyrospermum Parkii (Shea Butter), Cucurbita Pepo (Pumpkin) Seed Oil, Vitis Vinifera (Grape) Seed Oil, Argania spinosa nut oil, Simmondsia Chinensis (Jojoba) Seed Oil, Ricinus Communis (Castor) Seed Oil, Fragrance Oils and/or Essential Oils
Allergies & Sensitivities:

If you have any allergies, please carefully read the product ingredients prior to use. If you are pregnant or have any health issues, please consult your physician before using any product with essential oils, herbs and extracts.

If you are uncertain about a sensitivity, we recommend doing a patch test first to ensure that there is no reaction. If irritation occurs, please discontinue using the product.

We use oils, butters and additives for a well-rounded product, however these claims are not FDA approved. Our products do not claim to cure or prevent disease or medical symptoms and are not intended to substitute for medical advice. Please consult your health care provider if you have any questions or concerns regarding a health condition.